Atlantic Saxophone Quartet
2 September | 20:00

-

21:00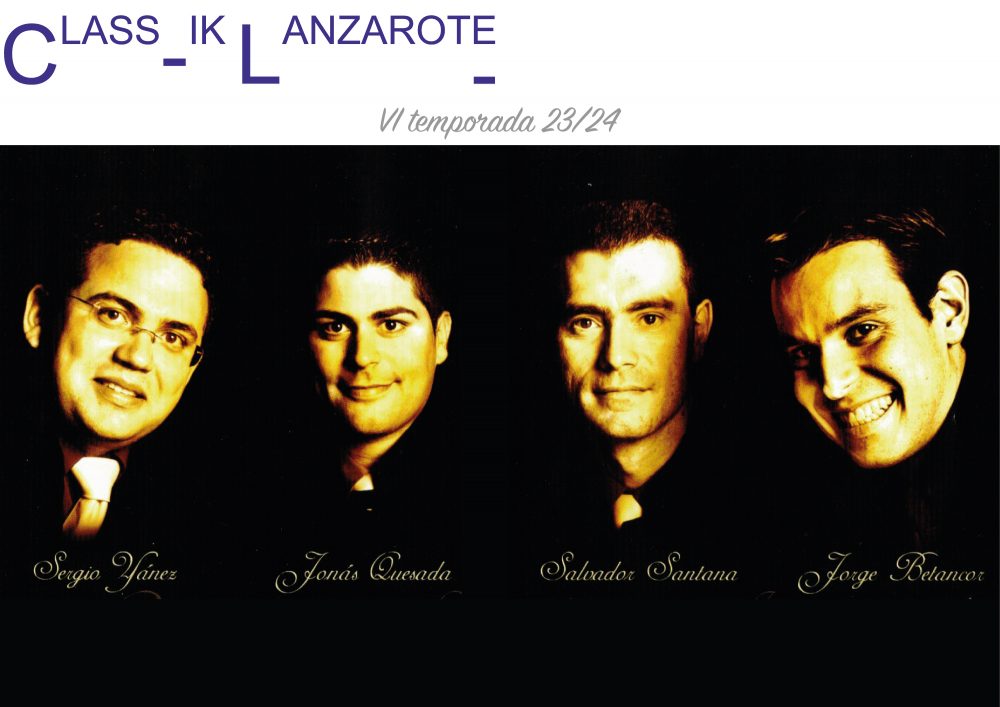 The Cuarteto de saxofones Atlántico is backed by a successful career that has made it a benchmark for chamber music in the Canary Islands.
This chamber group, formed by Jorge Betancor (soprano saxophone), Jonás Quesada (alto saxophone), Salvador Santana (tenor saxophone) and Sergio Yánez (baritone saxophone), has established itself as one of the leading groups of its kind in the Canary Islands, as shown by its many performances throughout the Canary Islands and the Spanish mainland. The quartet has also developed an important pedagogical work with the celebration of school concerts, conferences and courses with the aim of making the saxophone and its sounds known, highlighting the unpublished "Viaje a San Borondón" with music created by the Canarian composer Ernesto Mateo. In 2003, he won 2nd Prize in the Cajacanarias Chamber Music Competition held in Santa Cruz de Tenerife. In May 2006 he was also awarded 2nd Prize in the UFAM (Union Française des Artistes Musicales) competition.
Other prizes:
1st Prize in the Mirabent i Magrans Chamber Music Competition, held in Sitges (2006).
Semi-finalist in the City of Lucena Chamber Music Competition (Cordoba) 2006.
2nd Prize at the Cajacanarias Regional Chamber Music Competition 2007 (Tenerife).
His repertoire covers a wide range of styles, from adaptations of baroque and classical music to contemporary music or works reminiscent of jazz.
It has also premiered an important number of works composed expressly for the group by prestigious Canarian composers, such as Juan Manuel Ruiz, Juan Manuel Marrero, Ernesto Mateo, Nino Díaz or Eliseo Alemán among others, contributing to the development and diffusion of contemporary music creation in the Canary Islands.
---
PROGRAMME
Overture de concerto. A. Vivaldi
Quatour en Fa mineur. 1st and 4th mov . J. Haydn
When I met you. Nino Díaz
Grave et Presto. J. Rivier
Suite Hellénique. P. Iturralde
Danse Païenne. P. Sciortino
Tango Virtuoso. T. Escaich
Toquades. J. Naulais
Pop in D. J. Petit
Related Events