Popper Duo
01/05/2021 | 19:30

-

20:30

15€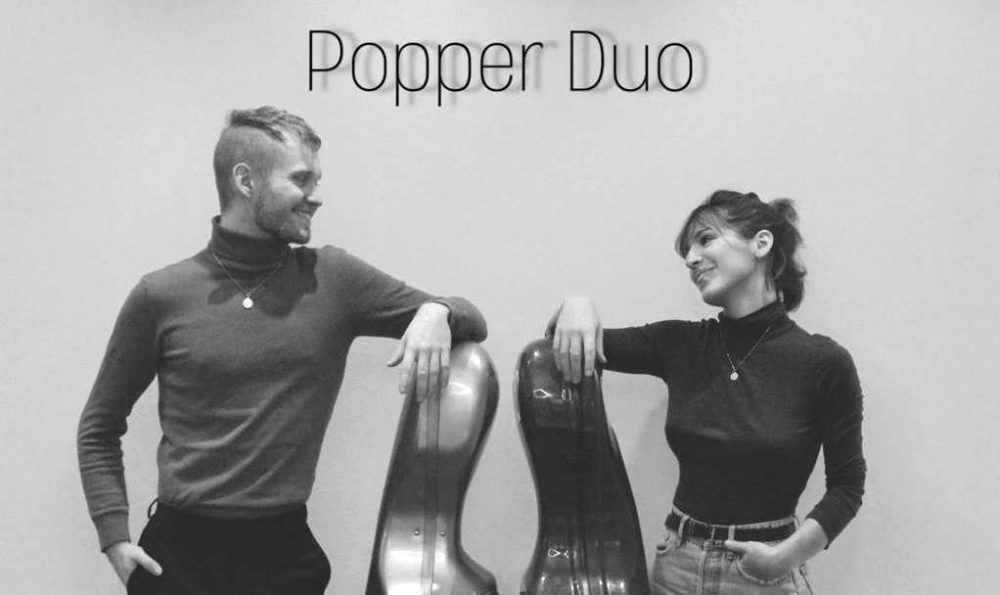 Lluc Pascual Sarret was born in 1998 in Térmens. He began his musical studies at the age of 9 with the cello and at 13 with the piano. Later he finished the Professional Grade with distinction at the Conservatory of Cervera with the teacher Laia Puig. She is currently studying the Grado Superior at the Maastricht Conservatory with Professor Gustav Rivinius.
He has received master classes from professors such as Alexander Chaushian, Laurentiu Sbarcea, Matthijs Broersma, Fernando Arias, Reinhard Latzko and Gabriel Schwabe. He has been a member and principal cello of the National Youth Orchestra of Catalonia.
He has won competitions and prizes where we can highlight the Honourable Mention in the International Pau Casals Award 2018, 1st Prize in the Cidade de Vigo Competition 2020 and the 2nd BBVA Music Prize for Individual Talent where he also won a prize for the best interpretation of the Suite by Gaspard Gassadó.
Since November 2020 he has been playing a 1720 Claude Pierray on loan from the Nationaal Muziekinstrumenten Fonds of Holland.
She has played in halls and auditoriums such as El Palau de la Música Catalana in Barcelona, Opera Berlioz in Montpellier, L'Auditori de Barcelona, Tauberphilarmonie in Weikersheim among others.
Judit Díaz Alvarez was born in Barcelona in 1994. She began her musical studies at the age of 7 and finished her professional studies at the Municipal Conservatory of Barcelona. Later she began her higher studies in the Netherlands under the mentor Mirel Iancovici and is now in her last year of her Master's degree with Professor Gabriel Schwabe.
Devoted to chamber music, she has been a member of numerous ensembles and has performed in Spain, Germany, the Netherlands, Belgium, Poland, etc.
She has also been a member of the German Youth Orchestra J.P.O.N., touring all over the country, and occasionally participates as a guest musician in the professional orchestra in Galicia: Vigo 430.
He is a member of the string quartet Wolność, the contemporary music group Falla Emsemble and the cello duo Popper Duo, named after David Popper, a reference in the world and the development of the cello.
He currently plays a 2004 Dutch instrument made by Saskia Schouten, a renowned luthier today, on loan from the Nationaal Muziekinstrumenten Fonds.
PROGRAMME
D. POPPER – Suite for two Cellos op.16 ( Largo Expressivo)
J. OFFENBACH (L) – Duo for Cello No.2 Op.51
Allegro non troppo 4'59"
Cantabile 2`59"
Allegretto 2'36"
H. VILLA-LOBOS – Duo for Oboe and Bassoon (Allegro) – arr. Judit Díaz
J. B. BREVAL – Sonata for Cello and Basso Continuo Op.12 Nº6
Allegro 6'23"
Adagio 2'50"
Rondo 3'48" R.GLIERE – Duo
R.GLIERE – Duo for Cello Op.53 Nº2 (Leggiero)
J.HAYDN – Duet in D Hob. X:II + XII: 3+5
Moderato 4'39"
Menuet 2'30"
Finale 2'25"
L. BOCCHERINI – Sonata for Cello and Basso Continuo in A major G.4
Adagio 3'35"
Allegro 3'18" Allegro 3'18"
J,BARRIERE – Sonata for Cello and Basso Continuo in G Major
Andante 4'15"
Adagio 2'36"
Allegro prestissimo 2'58"