Miguel Angel Mesa & Ornati Quartet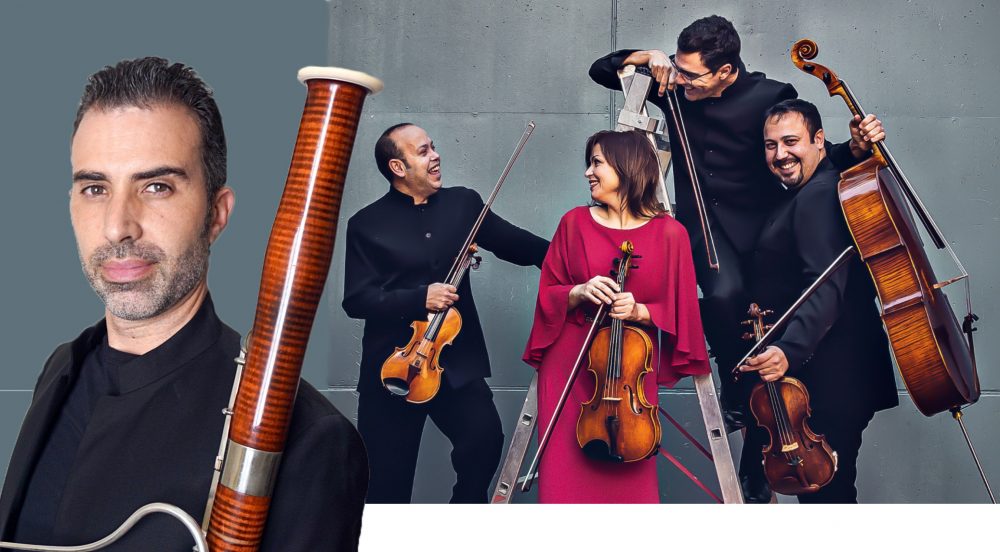 Miguel Ángel Mesa Díaz was born in Santa Cruz de Tenerife, in 2008 he graduated from Musikene (Centro Superior de Música de País Vasco) under the tutelage of professors David Tomas Realp and Javier Aragó, among others.
He has been a member of the JONDE (National Youth Orchestra of Spain). He has been awarded an Erasmus scholarship to study bassoon at the Universität der Künste Berlin with Professor Eckart Hübner (soloist SWR Sinfonieorchester Baden-Baden und Freiburg). In 2008 he joined the Gustav Mahler Jugend Orchestra, in which he has had the pleasure of working with conductors such as Herbert Blomstedt, Sir Colins Davis, etc. in a large number of auditoriums and various halls throughout Europe, Musikverein (Vienna), Concertgebouw (Amsterdam), Royal Albert Hall (London), Auditorio Nacional de Música (Madrid), among others.
Since 2008 he has developed a great musical activity as a freelance in which he has collaborated with numerous orchestras such as: Orquesta Sinfónica de Castilla y León, Orquesta Sinfónica de Galicia, Orquesta Sinfónica Ciudad de Granada, Orquesta Sinfónica de Bilbao, Orquesta Sinfónica Gulbenkian (Portugal), Orquesta Sinfónica de Tenerife, Real Orquesta Sinfónica de Sevilla, Real Filarmonía de Galicia, Orquesta Sinfónica del Principado de Asturias, Orquesta Sinfónica de Radio Televisión Española and Orquesta Sinfónica de Madrid.
In the period 2012 – 2013 he held the position of soloist b in the Algarve Symphony Orchestra (Portugal).
From 2016 to 2019 he has been professor of bassoon at the Conservatorio Superior de Música de Canarias.
From 2018 to the present, he has been contracted as principal bassoon soloist of the Orquesta Filarmónica de Gran Canaria.
---
Since its foundation in 2003, the Ornati Quartet has developed an important activity, both on stage and in teaching.
Its repertoire spans all periods, bringing together a deep understanding and total commitment in its interpretations, including classical recordings, such as the Quintets with two violas by José Palomino for the Patrimonio Musical Hispano of the Spanish Society of Musicology, to a recent contemporary commission recording the complete string quartets of Juan Manuel Marrero.
His concerts include, besides music for string quartet, such as the recent tour for the 36th International Music Festival of the Canary Islands with music by Beethoven for the celebration of its 250th anniversary, other formats such as the social, bringing music to people and places in situations of vulnerability or isolation, as well as the didactic with specific programmes that bring young people closer to art in general.
Among the collaborations on stage are musicians of the stature of Juan Pérez Floristan, Nancy Fabiola Herrera and Rodolfo Mederos, seeking a balance between the tradition of different styles.
They are members of the Orquesta Filarmónica de Gran Canaria, where they live, and regular collaborators of the International Bach Festival, of which violist Adriana Ilieva is a founding member.
---
PROGRAMME
A. VIVALDI (1678-1741) Concerto for Bassoon and Orchestra in E minor.
H. VILLA-LOBOS (1887-1959) Ciranda das sete notas.
C.M. VON WEBER (1786-1826) Concerto for Bassoon and Orchestra in F major.