Judith Pezoa
06/04/2019 | 20:30

-

21:30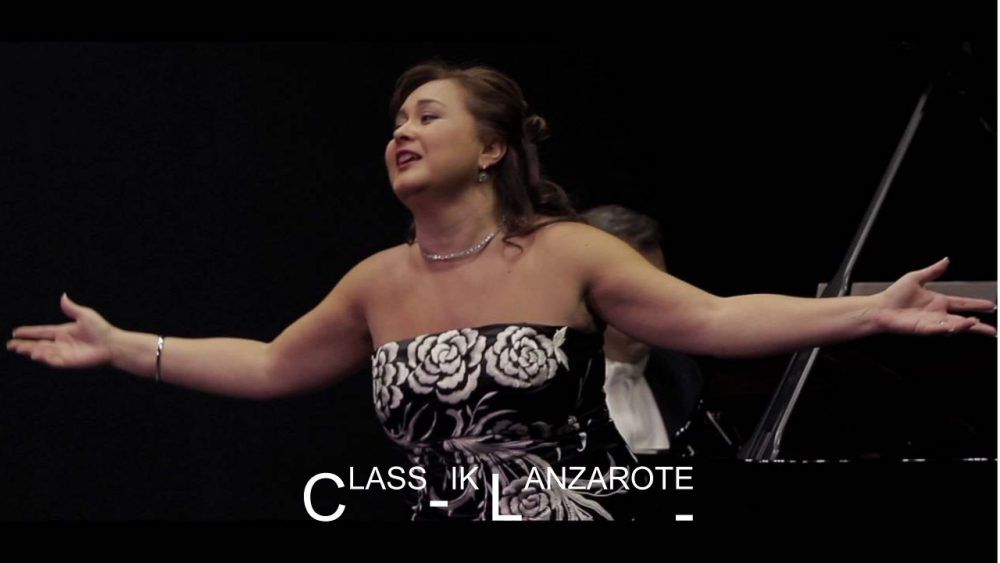 Soprano Judith Pezoa accompanied on piano by Sandra González will offer us an interesting and entertaining programme with a selection of opera arias and zarzuela.
Judith Pezoa was born in Las Palmas de Gran Canaria, she graduated with the highest qualification in Singing and Piano. She obtained distinction in the International Academy of Music of Nice and in the Rossinian Academy of Pesaro. Always in constant formation, she has perfected her vocal technique with great masters such as Plácido Domingo, Mariella Devia, Alberto Zedda, María Orán, etc. She has been awarded in the International Singing Competitions of Torino, Logroño, Colmenar Viejo, Opera de Tenerife and Cajacanarias.
Her career spans theatres and auditoriums such as Pérez Galdós, Reina Victoria, Alfredo Kraus, Adán Martín, La Maestranza, Niza, Padova, Udine, Monza, Milano, Busto Arsizio, Varese and Pesaro, where she covers the main roles of operas and zarzuelas such as Rigoletto, Die Zauberflöte, Cosi fan Tutte, L'elisir d'amore, La Traviata, Lucia di Lammermoor, Sonnambula, La Fille du Regiment, Bohéme, Doña Francisquita, El Barbero de Sevilla, Marina, Carmina Burana, etc. All this under the special musical direction of masters as Eric Hull, Miquel Ortega, Alessandro D'Agostini, Pedro Halfter, Pier Pelucchi, A. Zedda, Liu Ja, Alessandro Vitiello, Bruno Aprea, Víctor Pablo Pérez, Marzio Conti, Lucía Marín and Evelino Pidò among others.
She takes part in the international concert series Vive la Lírica in Las Palmas de Gran Canaria with artists as Aprile Millo, Ainhoa Arteta, Nancy F. Herrera, Carlos Álvarez, Yolanda Auyanet and Lawrence Brownlee, among others.
She has performed numerous voice and piano recitals and concerts both nationally and internationally in cities such as Nice, Lion, Lugano, Brissago, Paris, Vienna, Milan, Madrid, Logroño, Jaén, Murcia, Castellón, Barcelona, Lanzarote, Fuerteventura, La Palma, Tenerife, Huesca, Zaragoza and Palma de Mallorca.
She comes after having performed in the Cathedral of Santa María la Real de la Almudena in Madrid (Almudena's Cathedral) a recital with voice and organ within the commemorative acts of the Bicentenary of the Foundation of the International Congregation Jesús María, as well as to incarnate the role of La Casta, of the zarzuela La verbena de la Paloma, within the XXVI Canary Islands Zarzuela Season. Also during the month of December she takes part as a soloist in the Gala Siempre Zarzuela which is the closing ceremony of the season. She is also guest soloist in the IV Solidarity Lyric Gala of New Year that took place in the Auditorium of the Cultural Center Maspalomas. On this same stage, she has just performed the Opera Proibita baroque repertoire concert as a soloist with the Quattro Corde Ensemble.
Worthy of mention is her participation as cover of soprano Elena Mosuc in the role of Lucia, of the opera Lucia di Lammermoor, which served as the inauguration of the 50th Opera Season of Las Palmas de Gran Canaria tribute to Alfredo Kraus.
---
PROGRAM
Aria de Linda "Ah, tardai troppo… O luce di quest' anima" – G. Donizetti (1797-1848)
de la Ópera Linda di Chamounix
Aria de Lauretta "O mio babbino caro" – G. Puccini (1858-1924)
de la Ópera Gianni Schicchi
Aria de Juliette "Je veux vivre" – C. Gounod (1818-1893)
de la Ópera Romeo & Juliette
Waltz op.64 nº 2 – F. Chopin (1810-1849)
(Piano)
Aria de Musetta "Quando men vo" – G. Puccini (1858-1924)
de la Ópera La Bohème
Aria de Violetta "E strano… Sempre libera" – G. Verdi (1813-1901)
de la Ópera La Traviata
Intermedio
Romanza de Paloma "Como nací en la calle de la Paloma" – A. Barbieri (1823-1894)
de la Zarzuela El barberillo de Lavapiés
Romanza de La Generala "Es un muñeco el Arlequín" – A. Vives (1871-1932)
de la Zarzuela La Generala
Romanza de Valentina "Tres horas antes del día" – M. Torroba (1891- 1982)
de la Zarzuela La Marchenera
Romanza de Cecilia "Yo soy Cecilia Valdés" – G. Roig (1890-1970)
de la Zarzuela Cecilia Valdés
Romanza de Elena "Me llaman la primorosa" – Nieto (1844-1915) y Giménez (1854-1923)
de la Zarzuela El barbero de Sevilla
Related Events