JAVIER LLOPIS
26/11/2022 | 20:00

-

21:00

15€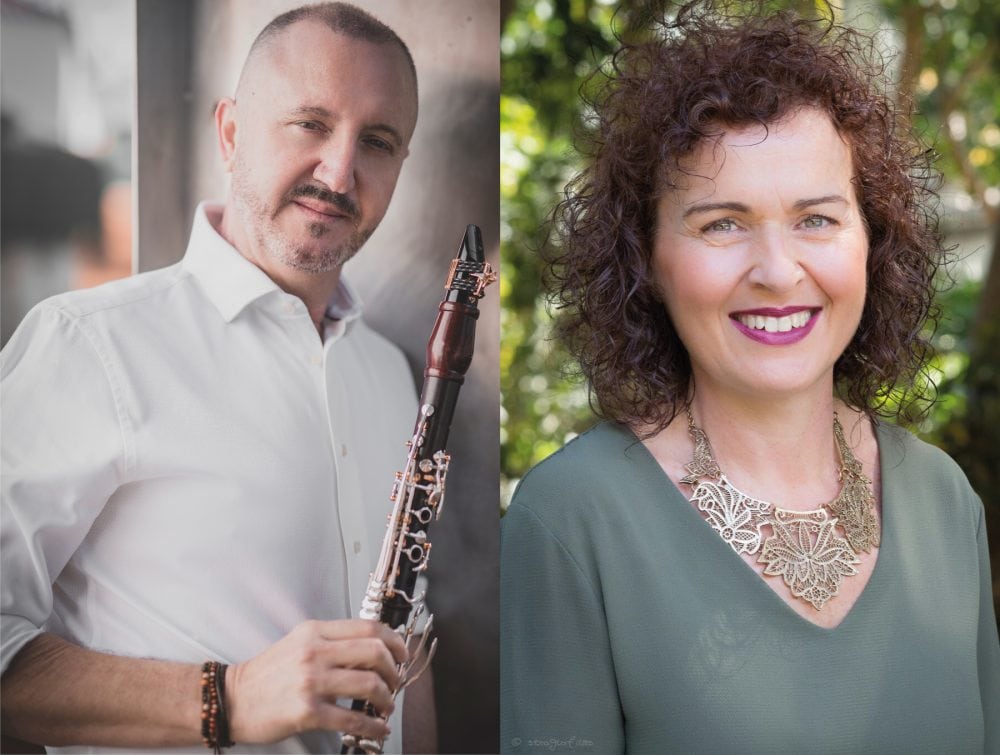 JAVIER LLOPIS, clarinet
Concert performer, clarinet teacher at the Conservatorio Profesional de Música de Tenerife, assistant clarinet of the Orquesta Sinfónica de Tenerife, artistic director of the Tenerife Clarinet Fest and founder of the Pícolo Clarinet International Academy.
Born in Cullera (Valencia), he began his musical studies at the S.M.I. Santa Cecilia de Cullera and continued them at the Higher Conservatories of Valencia and Tenerife, obtaining the Honours Prizes in Clarinet (Elementary, Professional and End of Degree) and in Chamber Music (Professional and End of Degree). Subsequently, he furthered his clarinet and chamber music studies in Spain, France, Germany and Austria, with maestros Alois Brandhofer, Alfred Prinz, Karl Leister, Bertram Egger, Eric Hoeprich and Thomas Friedli among others.
Javier is internationally recognised as one of the most outstanding clarinettists today, both for the dissemination of the piccolo clarinet as a solo instrument and for the research and development devoted to this instrument. He has performed concerts as a clarinet and requinto soloist in Spain, France, Austria, Italy, Poland, Portugal, Germany, Slovenia, Belgium, Brazil, Uruguay and the USA, premiering works that have enriched the scarce existing repertoire for this small instrument. This has allowed him to work with important composers such as Martínez Gallego, Saul Gómez Soler, Jose Manuel Encinoso, Alexander Mullenbach, Simon Milton, Jose Manuel Fernández, Laura Vega, David Menent, Milena Perisic and Nino Díaz among others. Javier has also composed several works for piccolo clarinet, including Gloom 03:27 and the Variations on "Cançons de Mare".
In his pedagogical facet, Javier develops an intense work as artistic director of the Tenerife Clarinet Fest (International Clarinet Festival of Tenerife), in the Professional Conservatory of Music of Tenerife as well as in his international academy specialized in piccolo clarinet, Pícolo Clarinet International Academy, a pioneer project in the world as far as this instrument is concerned.
Javier is also regularly invited to give master classes in Europe and Latin America, including the University of Joao Pessoa, the Academia Metropolitana in Lisbon, Karol Szymanowski in Katowice, Academia del Clarinetto in Italy, etc.
His teaching has produced prize winners in important national and international competitions, including Tenerife Clarinet Fest, Gran Canaria International Competition, Villa de Agaete International Competition, Ciudade de Ourense, Orihuela International Competition, Italian Clarinet Academy, Rising Stars Grand Prix of Berlin, Grand Prize Virtuoso of Salzburg and Golden Classical Music Awards of the USA.
He is regularly invited to participate as a jury member in international competitions, including the International Clarinet Competition "Saverio Mercadante" (Italy), I.CA High Scholl Clarinet Competition (Los Angeles and Madrid), Tenerife Clarinet Fest, Concurso Internacional de Gran Canaria, Concurso Internacional Villa de Agaete and Silverstein Global Clarinet Competition.
He has been Clarinet Soloist of the Santa Cecilia Symphony Orchestra of Cullera, of the La Palma Island Symphony Orchestra, of the Atlantic Symphony Orchestra, Clarinet Soloist of the Municipal Symphony Band of Gran Canaria, Requinto Soloist of the Tenerife Symphony Band (currently on leave of absence), founder of the Union and Friendship Band of Santa Cruz de Tenerife, teacher at the Tenerife Conservatory of Music, teacher at the Los Realejos School of Music and teacher at the Katarina Gurska Centre of Madrid.
As for chamber music, Javier has played and collaborated in countless ensembles throughout his long musical career. He has formed a duo with pianist Mara Jaubert since 2011, having developed a wide repertoire for this ensemble that ranges from classicism to the most avant-garde music, as well as adapting and commissioning music for piccolo clarinet and piano.
Javier is a Backun, Vandoren and Silverstein artist.
---
MARÍA EUGENIA JAUBERT RIUS, piano
Pianist born in Santa Cruz de Tenerife, she has performed in recitals with Celso Albelo, Jorge de León, Raquel Lojendio, Nicolas Baldeyrou, Jose Franch Ballester, among others, and also as a soloist. She has given concerts in Japan (Sapporo, Kawasaki and Tokyo, including a Masterclass on Spanish music), in the Auditorium of Tenerife, in the University of Mexico DF (U.N.A.M) and was co-repetitive pianist in the world premiere of the English version of "Henry Clifford" by Isaac Albéniz in the Canary Islands Music Festival; in "El Moro de la Patera" by Lothar Siemens as well as in the Zarzuela "Adiós a la Bohemia". He has been piano accompanist in different productions of the Opera Festival of Las Palmas de Gran Canaria, in the Regional Singing Prize María Orán of CajaCanarias and also in the singing course of the Mapfre Foundation with the baritone Manuel Garrido.  Pianist at the International Clarinet Meetings held in Tenerife.
She began her musical studies at the Conservatorio Superior de Música de Tenerife with C. Hernández and J. Peñalver, and obtained the Higher Degrees in Piano and Chamber Music at the Conservatorio Superior de Madrid under the direction of Guillermo González with the highest qualifications. With a scholarship from the Ministry of Foreign Affairs, she continued her studies at the Musikhochschule in Vienna. Later, with scholarships from the Autonomous Communities of the Canary Islands, Madrid and the United Kingdom, she moved to London where she obtained an Advance Course Diploma from the Royal Academy of Music.
As an active student she attended courses given by V. Perlemuter, H. Graf, Badura-Skoda, D. Bashkirov, A. Shiff, Maria Joao Pires, among others.
He has performed as a soloist with the Tenerife Symphony Orchestra, the Enigma Group (Zaragoza) and has given recitals in Madrid (Fundación Juan March), Barcelona, in other Spanish capitals, as well as in Vienna and in the United Kingdom. She has recorded for R.N.E. – Radio 2 – and T.V.E. C.
Winner of several competitions (Christian Carpenter and W. S. Bennett-London), she was selected by the National Federation of Music Societies to give a concert tour in the United Kingdom.
She is currently a Repertor of Singing and Instruments at the Conservatorio Superior de Música de Canarias.
---
PROGRAM
GIACOMO PANIZZA
BALLABILE CON VARIAZIONI
NINO DÍAZ
EL LLOP I SALOMÉ (for Eb Clarinet and piano)**
A. PIAZZOLLA (adaptación J.Montilla)
LA MUERTE DEL ÁNGEL
R. SCHUMANN
FANTASIESTÜCKE op 73
1. Zart und mit Ausdruck
2. Lebhaft, leicht
3. Rasch und mit Feuer
L. BERNSTEIN
SONATA
1. Grazioso
2. Andantino – Vivace e Leggiero
M. MANGANI
BLUES DE UN AMÉRICAN EN PARIS
BELA KOVÁCS
AFTER YOUR; Mr GERSHWIN
** Estreno Mundial
Related Events