Diego Barber
4 November | 20:00

-

21:00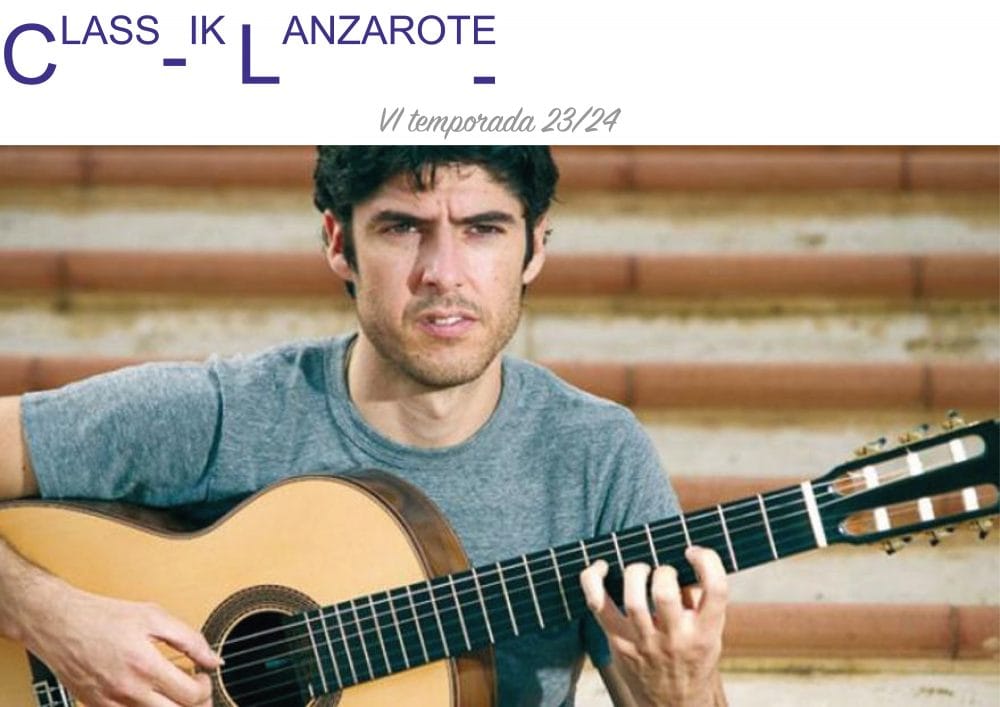 Born on July 13, 1978, in Lanzarote, Canary Islands (Spain), Diego Barber was drawn to music from an early age. He began his musical journey with initial training at the Lanzarote Conservatory, receiving lessons from Miguel Ángel Calzadilla. He also had private instruction at a music school where Toñin Corújo served as his teacher in 1995. Moving to Madrid, he enrolled in the Arturo Soria Conservatory. At this point, a significant and fortuitous event may have been meeting José Ramón García, who, through his lessons on harmony, analysis, and composition, helped shape Diego as a musician.
He later attended the Superior Conservatory of Music in Salamanca and completed his Bachelor's degree in Classical Guitar in 2001. During his time in Salamanca, he had the privilege of studying under the guidance of esteemed teachers Costas Cotsiolis and Ricardo Gallen, the former in Athens for a year and the latter with classes wherever they could meet around the world.
Subsequently, he was admitted to the Mozarteum University in Salzburg, where he completed postgraduate studies in 2006 under the mentorship of Marco Tamayo and Eliot Fisk. As part of his classical music education, he received masterclasses from musicians like David Russell, Joaquin Clerk, Zoran Dukic, and Pavel Steidi, among others.
Diego is also a composer and arranger. His compositions and arrangements have been included in the repertoires of some of the world's finest guitarists. Diego Barber currently resides in New York, where he has recorded five albums as a composer and performer with Sunnyside Records and Origin Records. He had the opportunity to perform and record with some of the best contemporary jazz musicians, including Mark Turner, Craig Taborn, Eric Harland, Butch Morris, Larry Grenadier, Jeff Ballard, Ari Hoenig, Seamus Blake, Ben Willians, and others.
He has had the honor of performing at clubs such as Cornelia St. Cafe, Stone, Jazz Gallery, and more. His works have ranked on major jazz charts in the United States and received recognition from specialized press such as National Public Radio, Jazztimes, Downbeat, All About Jazz, and respected jazz critics like Nate Chinen, Ted Panken, Raul D'Gama Rose, Dave Summer. He was nominated as a potential candidate for inclusion as a "Revelation Artist" by the New Music Seminar and was a Grammy finalist in the category of Instrumental Jazz Album ("Calima," 2010), among other accolades.
Contact Information:
Education:
Superior Conservatory of Music of Salamanca, completed Bachelor's in Classical Guitar, Spain
National Conservatory of Athens, postgraduate studies with Professor Costas Cotsiolis, Greece
Mozarteum University in Salzburg, completed postgraduate studies, Austria
Certificate of Pedagogical Aptitude (CAP), Spain (required certificate for teaching music in Spain)
Discography:
"Calima" (Sunnyside Records)
"The Choice" (Sunnyside Records)
"Tales" (Sunnyside Records)
"411" (Origin Records)
"One Minute Later" (Sunnyside Records)
Publications:
Some of his music has been published this year by the prestigious Mel Bay Publications.
Awards/Recognitions:
First prize in the International Classical Guitar Competition "Leo Brouwer" held in Spain in 2003.
First prize in the competition organized by the Miami Classical Guitar Society in 2004.
Nominated as a potential "Revelation Artist" by the New Music Seminar (NMS) and music industry professionals.
"Calima" was a finalist among the Grammy 2010 nominees in the category of instrumental jazz album.
Included in Best Albums of the Year Lists by:
National Public Radio
Chicago Tribune
Los Angeles Times
iTunes (awarded with 4 stars)
The New York Village Voice
DownBeat (awarded with 4 stars)
The New York City Jazz Record
Baltimore City Paper
Jazz Times
TimeOut, etc.
Reviews: Diego Barber has received acclaim in reviews from publications like All About Jazz, Billboard, Jazz Times, Downbeat, Pop Matters, Midwest Record, Bird is the Worm, Citizen Jazz, and more. Here are some excerpts:
"Known for the grandeur and majesty of his guitar style. Diego Barber's impressive dynamics and exquisite expression are deeply rooted in extraordinary technique." —All About Jazz.
"Barber's style is beautiful; his fingers glide lightly over the fretboard." —Down Beat Magazine.
"Diego Barber is a harbinger of things to come and the start of a brilliant career for someone who has all the potential to make a difference in modern music." —Michael G. Nastos, Billboard.
"Barber approaches the guitar with extraordinary precision, fluidity, and great sensitivity… He excels at giving an air of mystery and mischief to embedded melodies." —JazzTimes
"Barber and Taborn offer a grand epic in four parts. This is music with a brainy punch through the complexity of their interaction, while also forging a lifeline straight to the heart through the beauty of the music presented. One of the best things I've heard all year. Pick of the week." —Dave Sumner.
Professional Experience:
He has taught classes, workshops, and private lessons in various cities in Spain, Austria, and Germany.
He has performed concerts in numerous cities in European and American countries, including Greece, Austria, Spain, Germany, France, the United States, Mexico, and more.
He has recorded and performed concerts in collaboration with musicians of the caliber of Mark Turner, Jeff Ballard, Larry Grenadier, Ari Hoenig, Johannes Weindenmueller, Seamus Blake, Craig Taborn, etc.
He has conducted courses in various cities in Spain, including Oviedo, Extremadura, Madrid, Valencia, Tenerife, Lanzarote, etc.