Chano Gil & Sergio Alonso
08/09/2018 | 21:00

-

22:00

10€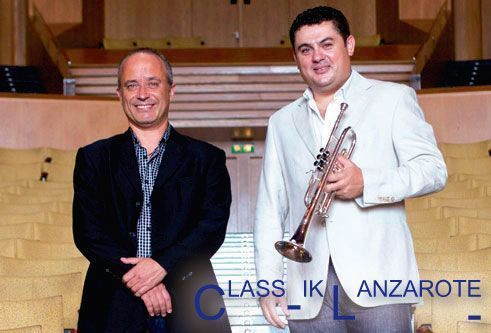 SEBASTIÁN GIL
Professor of Trumpet and Trumpet Pedagogy of the Conservatory of Music of the Canary Islands (Spain)
Born in Firgas, Gran Canaria, on December 15, 1972.
Considered one of the most versatile trumpeters of his generation, he performs both in the interpretation of ancient music and in the deepest jazz, going through the classical
interpretation.
He began his trumpet studies at the age of eight in his hometown, Firgas, (Gran Canaria, Spain) in the School Board "Youth Music Band of Firgas". Later he moved to the Conservatory of Music of Las Palmas de Gran Canaria, where he studied with Professor D. Santiago Luri San Vicente. Finish the top trumpet degree with the highest grades. He expands his studies with Professor Alejandro Castañeda (trumpet soloist of the Philharmonic Orchestra of Gran Canaria). Scholar by the Cabildo de Gran Canaria he moved to Valencia to study, where he studied music and university at the conservatories "José Iturbi" and "Joaquín Rodrigo" and at the University of Valencia.
He has received classes from the most prestigious trumpeters in the classical field as well as in Jazz and early music. Some of them are Maurice André, Edward Tarr, Manuel Lopez, Maurice Benterfa, Jouko Harjanne, Kristian Steenstrup, Hans Gansch, Pierre Dutot, David Hickman, Tim Hagans, Mike Koupa, Brian Lynch, Laurie Frink, ….
He is artistic director of the Gran Canaria Big Band and the Maspalomas International Trumpet Festival. He is a member of the famous group Ten Of The Best, which brings together ten of the best trumpet players of various nationalities with which he toured all over the world.
He has toured several countries (Japan, Germany, Austria, Switzerland, Spain, Australia, United States, Mexico, Portugal, Denmark, Italy, Croatia, Slovenia, Estonia, Cuba, …) as a soloist and with different formations such as they are the Philharmonic Orchestra of Gran Canaria, Tenerife Symphony Orchestra, Castilla y León Symphony Orchestra, National
Orchestra of Spain, Philharmonic Orchestra of Nations (Berlin), National Orchestra of Cuba, Camerata of Cancun, Sedajazz Big Band, Gran Canaria Big Band, Big Band of the Canaries, Atlantic Art Ensemble, Ensemble of Trumpets of the CSMC, Ten Of The Best, ….
As a teacher, he teaches numerous specialized courses throughout the Canary Islands, Spain, Italy, Portugal, Australia, Mexico, Denmark, the United States, Germany, Croatia, Slovenia, Estonia, Cuba, …
In the field of research, he is in possession of the Diploma of Advanced Studies. He is a doctor from the University of Las Palmas de Gran Canaria with his thesis "The repertoire for trumpet and organ of Spanish composers. Cataloging, study and didactic proposal of interpretation ", with which it obtained the grade of" cum laude ".
He has various publications on musical cataloging and research of the trumpet and organ repertoire, as well as articles on methodological innovation in the teaching of the trumpet.
He is member of the International Trumpet Guild (USA), an international association of pedagogues and trumpet performers. With this association he was invited to participate in the 35th and 38th congress that was held in July 2010 and 2012 in the cities of Sydney (Australia) and Michigan (United States) respectively, reaping great success in the various concerts and conferences held in said cities.
He is a member of the management team of the SEM-EE, Society for Musical Education of the Spanish State. As well as advisor of the different scientific committees of this association.
He has participated in more than fifty recordings of very diverse nature. Among those that stand out "The trumpet in the organs of Gran Canaria" that has been published in the Spanish label Gad & Gad records and another with the jazz group "GBP" published in Irina Records.
He has participated as an artist and guest speaker at the 4th Meeting of Trumpets "Rafael Méndez" in Mexico City sharing the bill with trumpeters of the likes of Arturo Sandoval, Otto Sauter, David Hickman, … He also participates in the Spanish Brass Alzira in Valencia considered one of the most important festivals in Europe in its category, as well as the Alion Baltic International Music Festival and Academy in the city of Tallinn, Estonia.
His next projects include his presence at the Wartburg-Eisenach Festival (Germany) and at the International Music Festival of Cancun (Mexico). He will give master classes and lectures at the Superior Conservatory of Music in Como (Italy) and will participate in the Alion Baltic International Music Festival and Academy to be held in Tallinn (Estonia).
---
SERGIO ALONSO
Doctor for the Universidad de Las Palmas de Gran Canaria.
Director of the Superior de Música de Canarias y member of the Consejo Superior de Música and Artes Escénicas de España from 2009 until 2016.
End of Career Award with Honorable Mention.
Pianist soloist of the Philharmonic Orchestra of Gran Canaria from 1994 to 2017 where he performed under the batons of Rostropovich, R. Frübeck de Burg, A. Ros
Marbá, V. Yamposky, G. Herbig, P. Halffter, F. Biondi, B. Klee, A. Leaper, Semion Bichkov, etc.
He has toured in Germany, Austria, Switzerland, China, Japan, Morocco, Mexico, etc., both soloist, with the OFGC and with different chamber music, playing with musicians such as Chong Liang Lin, Otto Sauter, Sebastian Gil , Sting, Natalia Falcon, Mikhail Vostokov, Radovan Cavallin, Emöke Ujj, Laura Chuc, etc.
He has been invited by the WDR Symphony Orchestra of Köln to perform at the Canary Islands Music Festival, where he has also given several piano recitals. He
has played several times at the Konzerthaus in Berlin.
He also highlights his jazz side playing among others in the Canary Jazz Festival and the Cancun Music Festival and in his role as conductor of ensembles and orchestra (Atlantic Art Orchestra, Ensemble Gran Canaria, etc.). He has also made multiple concerts and recordings as an organist and harpsichordist.
Within the Ancient Music, your participation in the Ancient Music Festival of Las Palmas de Gran Canaria in 2014, the Mayan International Festival of the Mayan
Culture of Mexico (year 2015) and the First Cycle of Ancient Music of Los deserve special attention. Llanos de Aridane (La Palma, year 2017).
In June 2018, invited by the City Council of Las Palmas de Gran Canaria, he performs with Natalia Falcón a recital of two pianos within the Foundational Festivities of the City.
In July 2018 he performs a recital with Gabriele Cassone and Eric Aubrier within the framework of the International Trumpet Festival of Maspalomas.
He has participated in numerous premieres of composers such as Tomás Marco, Juan José Falcón Sanabria, Juan Manuel Marrero, Zulema de la Cruz, Lothar Siemens, Guillermo García-Alcalde, Gilberto Rivero, Gonzalo Díaz Yerro, etc.
In November 2011 he toured Mexico along with trumpeter Sebastián Gil, having the privilege of playing in the Organ of the Metropolitan Cathedral of Mexico City.
Permanent guest of the International Music Festival of Cancun and Ribiera Maya from 2014 to the present, where, in addition to performing several concerts, he teaches másterclass.
He has recorded several solo piano albums, chamber music and orchestra with prestigious labels such as the British house ASV, Naxos, Artenova, Deutsche Grammophon, etc.
He usually perform a duo with two pianos with Natalia Falcón and another one with Sebastián Gil.
---
PROGRAM
G. Fantini (1600-1675)
3 Sonatas
Sonata detta dell´Arcinboldo
Sonata detta del Stufa
Sonata detta la Renuccini
Natural Trumpet & Piano
H. Purcell (1659-1695)
Sonata
Pomposo
Adagio
Allegro
Piccolo Trumpet in Bb & Piano
Nino Díaz (1963)
Xiuxiueig a Mompou
Piano
S. Rachmaninoff (1873–1943)
Vocalise Op.34 nº14
Trumpet in Bb & Piano
M. Ravel (1875–1937)
Piece in Form of Habanera
Trumpet in Bb & Piano
C. Debussy (1862–1918)
Claro de Luna
Piano
L. Bernstein (1918–1990)
Rondo for Lifey
Trumpet in Bb & Piano
A. Piazzolla (1921–1992)
Años de Soledad
Flugelhorn & Piano
J. Coltrane (1926–1967)
Naima
Flugelhorn & Piano