Acciaccatura Duet
07/07/2018 | 21:00

-

22:00

10€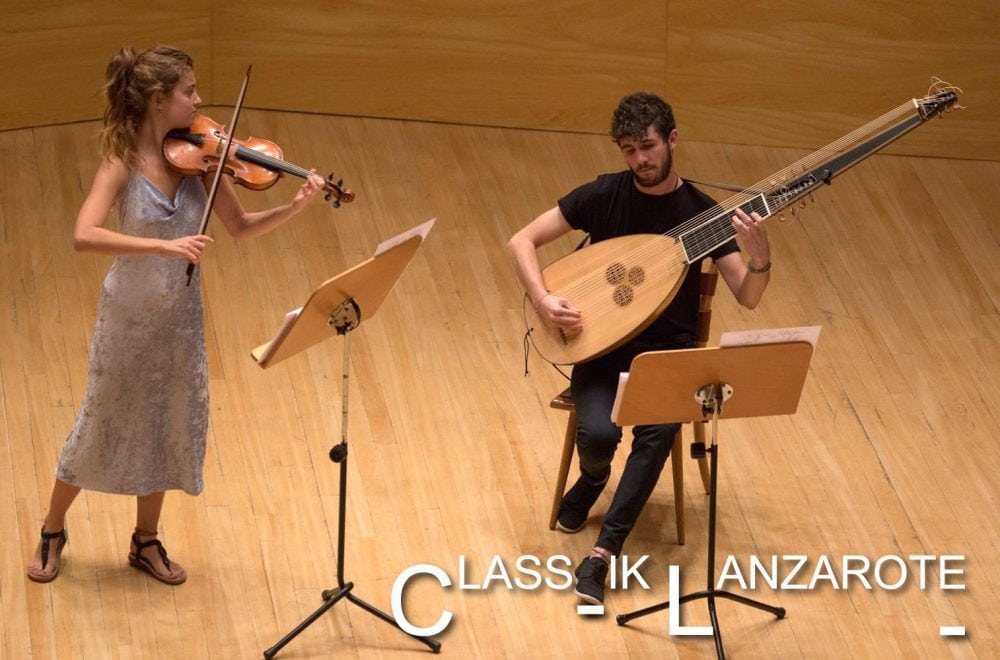 Acciacatura was created in 2013, at the Conservatory of Music of Aragón (Zaragoza). Its members, very interested in the study and interpretation of ancient music, have been trained with prestigious interpreters for separeted (Lina Tur, François Fernández, Carole Petitdemange, Cibran Sierra, Hopkinson Smith, Daniel Zapico and Pablo Zapico among others ), and also as a group (Laura Puerto, Saskia Roures, Silvia Marquez, Quiroga Quartet). They have been members of the Academy of Ancient Music of the Conservatory of Music of Aragon, and have attended to different editions the International Course of Early Music of Daroca, where they had the opportunity to work with Luis Antonio González ("Los músicos de su alteza") . They have also participated in the Ancient Music Festival of Albarracín.
They have performed as a duo in various stages of the Aragonese capital such as the Cultural Center of Arms, the Auditorium Eduardo del Pueyo, the Conservatory of Music of Aragon and the Professional Conservatory of Music of Zaragoza, participating in the project of integration of the historic center of Zaragoza.
In 2015 they made a tour arround Nicaragua in which they did not only presented their pedagogical project but also performed as a duo at the Batahola Norte Cultural Center in Managua. During the summer of 2017 they tour around the peninsula, performing in Madrid, Huesca and Gijón, as well as in France in the church of Louvie Juzon and in the Thetre des Quatre Saisons, Gradignan, Bordeaux. They also participate in the XXI International Music Festival of the Ribagorza "Clásicos en la frontera". Last October they performed at the Auditorium of Zaragoza and in November 2017 they recorded their first CD "Acciaccatura" which includes the three main styles of musical baroque: Italian, French and German.
Very interested in the social cause have organized several concerts in centers for disabled people as in the Fernando el Católico Center in Zaragoza.
Together they have participated in diverse pedagogical projects. Noteworthy is the creation of the Violin and Guitar Course at the Batahola Norte Cultural Center "music between cultures" in Managua. From this same ambition to teach music to people who normally do not have that approach arises in 2016 the cycle of concerts known as "The Conciertazo" in Zaragoza, organized by the integration project of the historic center of Zaragoza. (PICH)).
The acciaccatura duo is a finalist and winner of the public's special prize at the VI International Music Competition of Gijón in July 2017.
Nacho and Berta are part of the Gli Incogniti Academy, where they have been able to work with Amandine Beyer, Olivier Fourés and Anna Fontana. It is with the Academy that they open the concert season of the Theater des Quatre Saisons de Gradignan, Bordeaux.
---
PROGRAM
JEAN-FÉRY REBEL (1666 – 1747)
Sonata for violin no 6 infor Si menor.
Grave – Légèrement – Gracieusement – Viste
JEAN-MARIE LECLAIR (1697 – 1764)
Troisieme Livre de Sonates Op. 5 – Sonata VIII en Re Mayor
Allegro ma non tropo – Aria gratioso – Andante – Allegro
ROBERT DE VISÉE (ca.1659 — ca.1733)
Suite pour violon et torbe in G Major
Preludio – Allemande – Courante – Sarabande – Gigue – Menuet – Chacone
EVARISTO FELICE DALL'ABACO (1675 – 1742)
Sonata for violín in Sol minore Op. 1 no 5
Andante – Ciaccone. Allegro – Adagio – Giga
FRANCESCO MARIA VERACINI (1690 – 1768)
12 Sonates academiches Op. 2 – Sonata no 2 en Si bemol Mayor
Polonese – Largo e staccato – Capriccio III – Arca Schiavona – Giga
N. MATTEIS (ca. 1650 – ca. 1713)
Diverse bizzarie sopra la vecchia sarabanda o pur ciaccona
Related Events